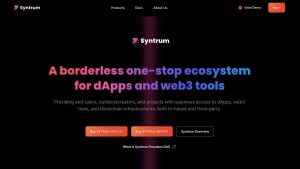 Dubai, UAE, 11th July 2023, ZEX PR WIRE, Syntrum is proud to announce the upcoming presale of its Syntrum Founders DAO Token. This token gives early backers rewards, ROI potential, and governance rights. 
Holders will have access to a large digital ecosystem featuring DeFi, GameFi, and NFTs. Syntrum's innovative tokenomics offer no team allocation but sales allocation for members, DEX liquidity, and staking rewards.
An Awaited Presale Event
SYTDAO is an exciting token aiming to revolutionize the digital asset industry. It combines the benefits of both BNB Chain and Ethereum, aiming to grow faster as a crypto investment opportunity. 
To take advantage of this offer, investors can join SYTDAO's presale event. The operation will open on July 12 at 12 pm UTC and end on July 15 at 12 pm UTC. The event will be live on Pinksale for the BEP20 and ERC20 tokens.
After the sale ends, an immediate listing with liquidity pairs will be available on Uniswap (ERC20) and Pancakeswap (BEP20). 
There are several benefits to joining the SYTDAO presale. First of all, the project incentivizes staking with a dynamic reward pool. Though not compulsory, DAO members can take part in governance by voting on proposals. 
Furthermore, people who participated in the sale become founding members and they will receive a membership certificate NFT. The team also mentioned the opportunity of receiving a custom Syntrum City (SynCity) NFT worth more than $200. 
Additionally, they will get a percentage of the SYT team's allocation which will be distributed according to the teams allocation vesting schedule.. There is also a referral bonus of up to 40% for members. Lastly, SYTDAO holders can access the Founders Lounge, where members with project ideas can get resources and support. 
The tokenomics of the project allocates the existing tokens among Governance Reward (9%), DEX Liquidity (31%), and Sale (60%). Combining a simple tokenomics structure and multiple benefits, the team intends to appeal to a wide range of investors.
Syntrum's Most Anticipated Features
As investors look with interest to the project's presale, Syntrum is working on launching some of its most anticipated features. The first of these is the multi-utility noncustodial mobile wallet. It will simplify sending, holding, and trading cryptocurrencies for users with a few clicks and no coding required. 
The wallet will go live after the conclusion of an alpha launch and bug bounty program. As part of this process, Syntrum will reward the community with BUSD for the issues reported before the official launch. 
Additionally, Syntrum is launching its permissionless staking protocol. This protocol allows users to create staking and liquidity mining pools with ease and without programming knowledge. They can also customize UI and URL for projects, making this technology even more powerful. 
In order to sweeten the deal, Syntrum is offering an affiliate/referral program. This strategy will reward those who bring business partnerships to the platform. They can earn up to a 40% referral bonus from each partnership. 
A Large Digital Ecosystem
There are three more dimensions in Syntrum's ecosystem: DeFi, GameFi, and NFT. DeFi offers users P2P and B2B algorithmic crypto markets for overcollateralized lending and borrowing. 
There will also be decentralized leverage trading protocols with undercollateralized lending mechanisms. It provides a token generation and tokenomics mechanism to deploy customized tokens with an auto-configuration of lockups or vesting schedules. SynVault adds multi-chain staking and liquidity mining vaults for Syntrum native assets.
Syntrum's GameFi dimension allows users to explore their creativity with SynBox and build custom games without coding. Moreover, it is possible to browse through collections of game assets and worlds to integrate them into their creations. 
It includes a Play-to-Earn hub where players can access numerous games in the ecosystem and earn rewards by playing them. Additionally, users can configure and schedule game tournaments and quests. 
It's also possible to participate in a Gamified bug bounty feature to earn rewards while finding bugs in applications. Interestingly, the platform will also let anyone manage scholarships to play multiple GameFi projects.
Moreover, NFT Factory allows users to mint NFTs seamlessly with custom smart contracts for their art collections. It also features a digital marketplace for crypto collectibles and non-fungible tokens and a liquidity protocol for NFT collections. 
There will also be a universal NFT smart contract browser to enable creators to customize and connect smart contracts. Syntrum's expansive digital ecosystem provides users with the tools to make the most of their crypto investments. 
About Syntrum
Syntrum Founders DAO is a Decentralized Autonomous Organization composed of individuals/entities that govern Syntrum. After the decision to onboard founding members in April, the team received numerous suggestions on ensuring decentralized autonomy. 
After careful planning, they created Syntrum Founders DAO. This is a fungible token with voting and governance rights within the Syntrum ecosystem. It allows holders to trade their tokens on DEXs/CEXs while participating in the project's governance decisions.
The imminent presale event (July 12 – July 15) offers participants the chance to take part in this innovative project. Pinksale is hosting two parallel presale events on behalf of Syntrum: one for the ERC20 token and one for the BEP20 version.
The project features an incentivizing staking reward pool, a referral bonus of up to 40%, and much more. The project's tokenomics assigns 60% of current tokens to the sale, with the rest to governance rewards and DEX liquidity. 
While the crypto world awaits Syntrum's new features, there are several methods to join the team. The project's official website and Syntrum's social media pages below provide users with the latest news, updates, and announcements. 
The Post Syntrum Announces $SYTDAO Presale with Multiple Benefits for Token Holders first appeared on ZEX PR Wire
Information contained on this page is provided by an independent third-party content provider. Binary News Network and this Site make no warranties or representations in connection therewith. If you are affiliated with this page and would like it removed please contact [email protected]