On July 12 in Kuala Lumpur, Malaysia, Mammoth Foundation chairman John Baek was awarded the Global Leadership Award in the Blockchain category at the "Global Leadership Awards 2022"
Seoul, Korea South, 17th Jul 2023 – The Global Leadership Awards, which began in 2009, were held for the 12th time this year as a competition to select and commend the best global leaders who have made significant contributions to industrial development in various industries such as agriculture, biotechnology, healthcare, and finance. The Leaders Online, an online news site, is hosting the event with support from the American non-governmental organization ALDA (American Leadership Development Association).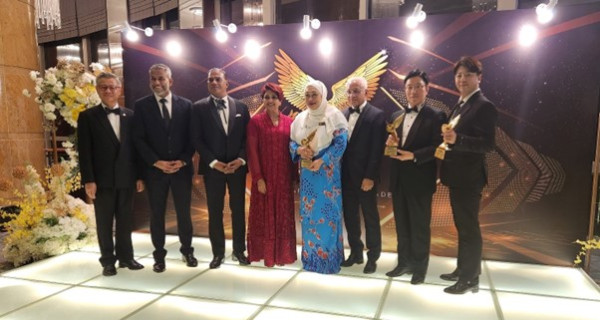 John Baek, the chairman of the Mammoth Foundation, received the Global Leadership Award in the blockchain industry for his contributions to blockchain technology throughout Asia and beyond, including North America, Japan, China, Uzbekistan, Thailand, Malaysia, Indonesia, and Vietnam.
Chairman John Baek is a developer in the IT industry with over ten years of experience in fields such as 'AI-based data processing system,' 'Security-enhanced virtual currency management system,' 'Virtual currency transaction service provision system,' and a variety of blockchain and artificial intelligence. He established the Mammoth Foundation, a blockchain research and development company, using his skill set and associated patent expertise.
The Mammoth Foundation is a blockchain infrastructure company that runs numerous operations on the Giant Mammoth Chain and its chain. Also Mammoth Foundation is an app development and IT company.
By providing customers with security-verified and dependable services, Giant Mammoth Chain, a global life service platform, has lowered the high entry barrier of blockchain for consumers who are unfamiliar with Wb3.0. The idea behind it is to spread awareness of WEB3.0 as a decentralized application (DApp) that can be used in everyday life.
"After the event, there are many inquiries from companies in Malaysia about how to use Mammoth's blockchain technology for business," stated Chairman John Baek, adding, "I look forward to future development."
About Mammoth Foundation.
Established in 2020, Giant Mammoth Chain INC does business as Mammoth Foundation. With its first listing on the New York virtual currency exchange Bitmart in January 2023, GMMT has gradually secured overseas exchanges such as CITEX, Deepcoin, and CoinStore enabling trading in multiple locations. They have been expanding their ecosystem through consistent efforts to secure global partners and users. They aim to apply blockchain technology to real-life applications and continue expanding their ecosystem through projects such as the NFT marketplace "EDEM," the shopping platform "Cokili," and the webtoon and web novel platform "E-Pafadise."
To learn more about The Mammoth Foundation, follow the company on LinkTree: https://linktr.ee/gmmt
Find The Mammoth Foundation on CoinMarket Cap: https://coinmarketcap.com/currencies/giant-mammoth
Media Contact
Organization: Giant Mammoth Chain
Contact Person: Floy Kim&Tom An
Website: https://gmmtchain.io/
Email: [email protected]
City: Seoul
Country: Korea South
Release Id: 1707234785
The post John Baek, the chairman of the Mammoth Foundation, received the Global Leadership Award at the "Global Leadership Awards 2022" appeared first on King Newswire.
Information contained on this page is provided by an independent third-party content provider. Binary News Network and this site make no warranties or representations in connection therewith. If you are affiliated with this page and would like it removed please contact [email protected]