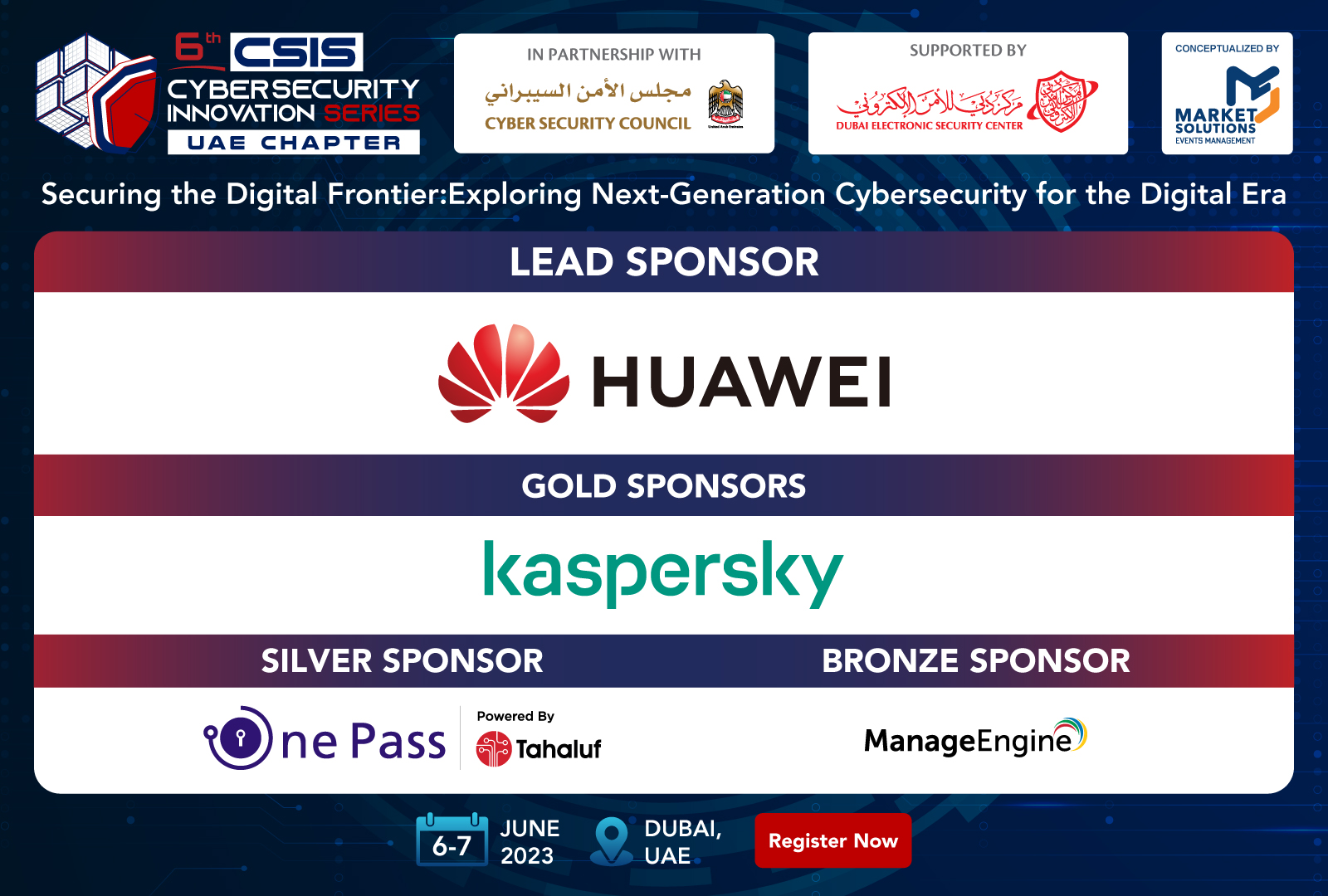 Dubai, UAE, 2nd June 2023, ZEX PR WIRE, In today's rapidly evolving digital landscape, the rise of cyber-attacks poses significant threats to businesses worldwide. With organizations facing unprecedented challenges, prioritizing cybersecurity and proactively staying one step ahead of potential threats has become increasingly crucial. Recognizing this critical need, Market Solutions Events Management (MS Events), in partnership with the Cybersecurity Council of UAE and with the support of Dubai Electronic Security presents the much-anticipated 6th Edition of Cyber Security Innovation Series and Awards 2023. This influential event, powered by the esteemed lead sponsor Huawei and in partnership with gold sponsor Kaspersky, silver sponsor Tahaluf, and bronze sponsor ManageEngine, is set to take place on 6th – 7th June 2023, at The Meydan Hotel in Dubai, UAE.
Why participating in the Cybersecurity Innovation Series is a must? Here are some eye-opening statistics that highlight the urgency of the cybersecurity landscape:
In 2022, the global cost of cybercrime exceeded $6 trillion, doubling in just five years and by 2023, cybercrime damages are projected to exceed $10.5 trillion globally. 
Human-operated ransomware attacks have increased by 311% in the last year alone, showcasing the growing sophistication of threat actors.
By prioritizing the cultivation of forward-thinking ideas and fortifying the foundations of a secure digital realm, this conference serves as an invaluable platform for the cybersecurity community. Here, they can not only showcase their remarkable achievements but also forge new bonds and collaborations at the prestigious CSIS awards. Moreover, this gathering aims to ignite a sense of passion and drive within the community, inspiring them to continuously push the boundaries of cybersecurity innovation.
"The future of cybersecurity is dependent on effectively understanding the ever-evolving threats and technological advancements, and countering these to create a secure and safer environment," said Khurram Sabir, Chief Internal Auditor and Chief Risk Officer, General Pension and Social Security Authority.
Approximately 95% of cybersecurity breaches are caused by human error, underscoring the importance of employee awareness and training.
"There are hundreds if not thousands of bad actors for each information security professional companies employ, so the critical need to educate and empower the entire organization is critical to its ongoing security, safety, and success."  – Zain Khan, Head of Information Security Compliance & Governance, Nawah Energy Company 
"In this ever-evolving digital world, sharing and building knowledge is becoming a must to achieve digital resilience in our ecosystem," added Wazira Bawazir, Head of IT Infrastructure & Security Section, Abu Dhabi Quality and Conformity Council.
At the Cyber Security Innovation Series, we will delve into these statistics and more, shedding light on the vulnerabilities that organizations face. We will discuss proactive measures to effectively mitigate risks, addressing pressing security concerns associated with digital transformation. This event brings together influential minds and key stakeholders from the public and private sectors to explore critical topics that shape the future of cybersecurity in the UAE.
"As cybersecurity professionals, we have to create our message of influence because security is a culture, and you need the business to be part of that security culture," emphasized Vishal Vijaykumar Bhawnani, Head of Cyber Security, Virgin Mobile UAE.
"Protecting data and securing the digital landscape is not just a responsibility, it's a commitment we make to safeguard the trust and privacy of individuals, businesses, and society as a whole. In the face of ever-evolving cyber threats, we stand strong, united, and unwavering in our dedication to fortify the digital world and build a safer future," affirmed Akhtar Ali, Head of IT Section, Fujairah Natural Resources Corporation.
Here is the list of confirmed speakers:
H.E. Dr. Mohamed Al-Kuwaiti, Head of Cybersecurity, UAE Government

Ayesha Almarzooqi, Permits Section Head, Dubai Electronic Security Center

Colonel Dr. Eng Ibrahim Humaid AlMayahi, Director of Smart Services & Digital Security, Ministry of Interior  

Dr. Ebrahim Al Alkeem Al Zaabi, Digital Transformation – Cyber Security – Artificial Intelligence expert, Director, Government of Abu Dhabi (UAE) 

Wazira Bawazir, Abu Dhabi Quality and Conformity Council            

Adel Alhosani, CISO & Information Security Senior Manager, Dubai Customs

Biju Hameed, Head- Technology Infrastructure Operations, Dubai Airports

Mohamed Al Maleki, Senior Information Security Specialist, Federal Tax Authority

Khurram Sabir, Chief Internal Auditor and Chief Risk Officer, General Pension and Social Security Authority

Akhtar Ali, Head of IT Section, Fujairah Natural Resources Corporation

Hussein Shafik Bahgat, Group Chief Information Security and Privacy Officer, Abu Dhabi Islamic Bank

Somnath Sarkar, CISO – Group Head of Information Security, Mashreq Bank

Faheem

Siddiq

, Director, Information Security, Majid Al Futtaim                  

Zain Ur Rehman, Head of Information Security Compliance & Governance,  Nawah Energy Company      

Shafiullah Ismail, Vice President – Cyber Security & Architecture. Governance & Risk, Mubadala Capital

Maher Yamout, Senior Security Researcher, Kaspersky     

Mahmoud Yassin, Head of IT Infrastructure and Security United Arab Bank  

Zaheer Mubarak Shaikh, Chief Information Security Officer, Al Maryah Community Bank        

Dr. Hossam Elshenraki, Associate Professor of criminal investigation, Dubai Police Academy   

Mariam Alhammadi, SOC manager, Ministry of Interior

Vishal Vijaykumar Bhawnani, Head of Cyber Security, Virgin Mobile UAE

Mohammad Faheem, Cyber Security Lead, Chalhoub Group

Dr. Nachaat Mohamed, Assistant Professor – Cybersecurity, Rabdan Academy          

Mohammed Al Nabtiti, PMO and Governance Manager, Bee'ah
Don't miss the opportunity to attend and nominate yourself for the 6th Edition Cybersecurity Innovation Series and Awards. 
To register or obtain more information about the event, please visit the official website at https://csis-mena.com/. 
For registration, click here: https://bit.ly/3HY74sQ.
For any inquiries, please contact Pooja Preetham at [email protected] or call +971 4 331 1622.
Contact Information
Pooja Preetham  
971 4 331 1622
MS Events 
About MS Events
Markets Solutions Events Management (MS Events) is a leading event management company dedicated to organizing high-quality, impactful events across various industries. With a focus on delivering exceptional experiences and fostering meaningful connections, MS Events strives to create platforms that enable professionals to exchange knowledge, explore innovative ideas, and shape the future of their respective fields.
The Post 6th Edition of Cyber Security Innovation Series and Awards on 6 – 7 June 2023: Exploring Next-Generation Cybersecurity for the Digital Era first appeared on ZEX PR Wire
Information contained on this page is provided by an independent third-party content provider. Binary News Network and this Site make no warranties or representations in connection therewith. If you are affiliated with this page and would like it removed please contact [email protected]